Baby Nursing


Baby Nursing tracking made easy!

Problem: Superwomen need help! - Moms with newborns are super busy, moms with newborns are sleep deprived, moms with newborns are exhausted and they need helping hands!

Solution: Baby Nursing app by Sevenlogics!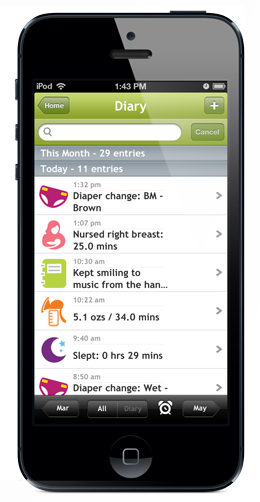 No flying papers
stay organized
No more headache trying to organize all the hand-written entries and worrying about lost papers and smeared ink. BabyNursing offers a central place to store all data related to your nursing, pumping, bottle-feeding, solids-feedling, diaper, measurement-tracking, sleeping, bath time, doctor visits, medication and vaccinations!
read more
Everything is organized into different modules to leave you, the busy mom, with no headache of having to record these numbers and times with pen and paper! All information is literally right at the touch of your fingertip!

When did your baby last had a meal? how long ago did you pump? Give your brain some breathing room and let the Baby Nursing app organize all these records for you!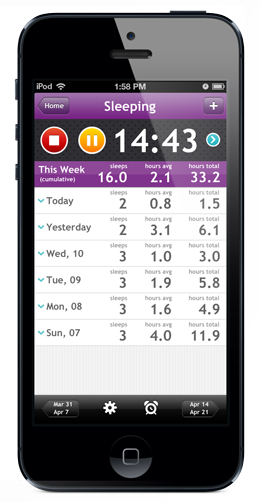 Real-Time Timers
tap - on, tap - off
Easy as turning the light switch on and off, our real-time timers are just 1 tap away! Track nursing, pumping, sleeping and bathing sessions with our easy-to-use timers.
read more
A simple tap the "R" or "L" button starts a pumping session, indicating which side mom is pumping from; when the pumping session is over, simply tap on the "Stop" button, and mom can fill in the detail for all other essential info such as the volume, the position, and any special notes.

The Nursing, Pumpgin, Sleeping and Bath Time modules are all equipped with this convenient feature. Isn't it wonderful that moms don't have to keep an eye on the clock while multi-tasking on getting other things done like preparing the next meal, washing the numerous towerls and bibs? Just a simple tap and the records are in.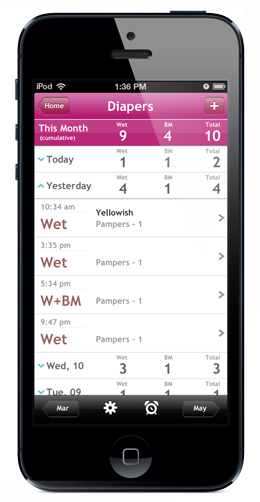 Lists & timetables
clarity
Baby Nursing understands that certain things are clearer to be viewed in timetables, and therefore presents Nursing, Pumping, Bottles & Sleeping records in easy-to-view timetables.
read more
How many diapers did the little one used today? When was the last time the little tummy was fed? Busy moms can have at-a-glance estimates on how far apart the nursing, pumping, bottle-feeding and sleeping records are, and adjusts the schedule accordingly. All other modules list information out in easy-to-understand chronological order.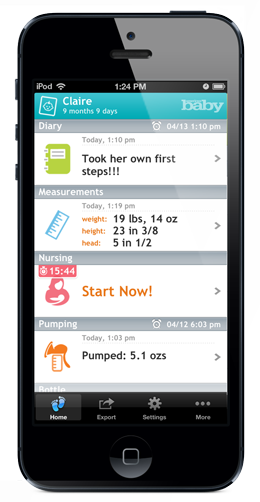 Smart Reminders
ease-of-mind
Although all moms have super power, they can still all appreciate some breathing room in their brains. With Baby Nursing's reminder, just ask the app to remind them for which activity and at what time, and give your brain some rest!
read more
Get reminded for long term routine such as nursing, pumping, or preparing a bottle or a meal, or something less frequent like taking a height, weight or head size measurement, or making a diary entry to record the day. No more worrying about missing a recommended immunization, or a dose of medication. BabyNursing even reminds moms when it's time for a follow-up doctor's appointment. It's like having a personal secretary helping you stay on top of every task!

The reminders can even be configured to not to go off at certain hours, so moms are not woken up in the middle of the night while being so sleep-deprived!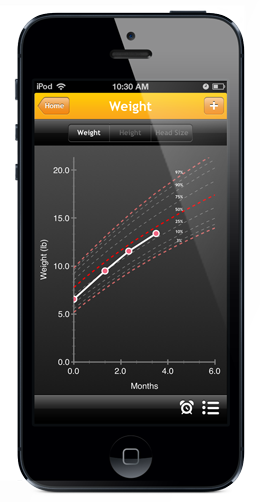 Health Records
Growth charts, Medicines, Doctor Visits, Vaccinations
Baby Nursing app is also a handy at storing and displaying health records. View growth charts, immunization list, doctor visits and medication records in one central place!
(Always check with your healthcare professional for the recommended vaccinations)
read more
How much does your child weigh now? How tall? Our growth charts offer a visual view of how your baby is growing compared to a median. Has your baby got the recommended vaccines yet? Our Immunization module lists our recommended vaccines by standards in different countries. Record all doctor visits and notes to and from the doctor, and also record the medication the little one needs to take to have all health records organized. At times when the little one gets sick BabyNursing tracks and reminds when it's time for the next dose of medicine, and/or when it's time for the follow-up doctor's appointment. Don't we love extra helping hands at those moments when our little ones are not feeling their best and needing our extra attention?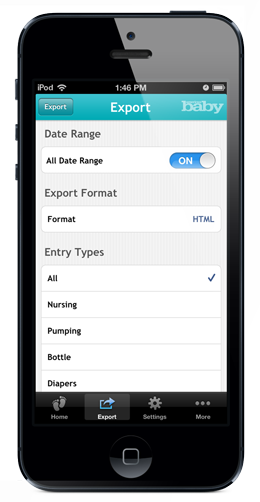 CSV / HTML Reports
records with details
Export your data as HTML and CSV reports and wow your pediatrician with detailed reports of your nursing routine!
read more
Select individual modules you'd like data exported for, for any date ranges and in the format most convenient to you! Print the reports out and take to your pediatrician, and/or just for record-sake!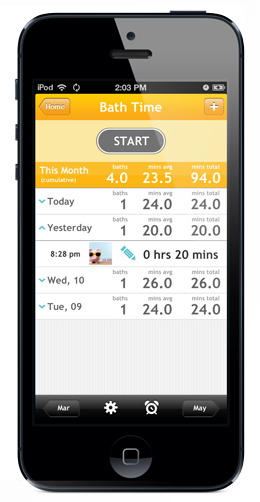 Photos, Videos Audio and Text notes
all memorable moments
Your little ones grow up too fast. They look different day after day and they intrigue us with new skills that they learn every day. Capture all these wonderful and precious moments by taking a picture of the first tooth, or capture a video of the first steps, or record an audio of the first words, and add a text entry of how the day has gone and how the little one never stops to amaze you!
read more
These notes are also useful for doctor visits - take a picture of the owie of your little ones and show the doctor, record an audio note of the doctor's diagnosis, and keep all such valuable info at one place.
Download Baby Nursing app
today and experience what many newborn moms are raving about!
Keep up with your baby! Enjoy each moment of your child's growth!